Just a quick little picture dump.
I took all three of the nimrods out on a walk together last night because I wanted to get some group pictures in Washington Square Park and I didn't want to worry about a mob of 100+ tourists coming up behind us while I was trying to get all three of them to hold dropped-leash Stays.
Plus, while walking three dogs at once (at least
these
three dogs at once) isn't actually THAT hard, we do tend to monopolize the sidewalk as we go past, and it's a bit inconsiderate to do that during primetime in a city. So a night walk it was!
I made a halfhearted effort to get Florence to sit on the bench with the other two, but she wasn't comfortable with the jump and in general I don't encourage foster dogs to get on the furniture (their adopters don't always want them on the furniture and it's easier to give privileges than take them away, so, as ever, I enforce the most restrictive rule in my house and then the adopters can let up in their own houses if they want), so I didn't push the matter too hard.
I think she would have gotten on the bench if I'd coaxed her a little more, but the picture worked fine this way and she was willing to center herself nicely between the other two, so whatever.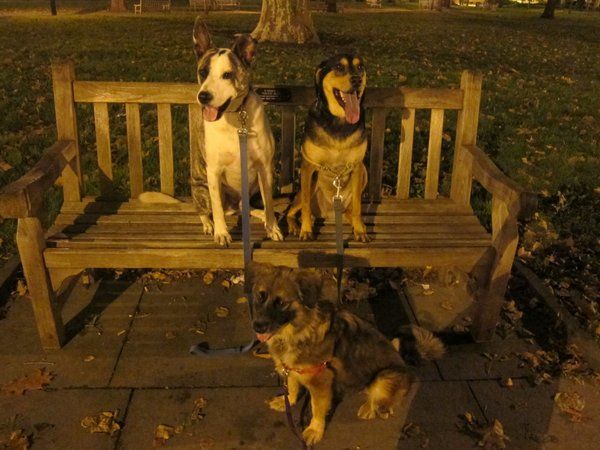 Playing tourist at the freedom memorial. This one is actually more of a milestone for Pongu than the other two.
The Tomb of the Unknown Revolutionary Soldiers (as the freedom memorial is formally known) is flanked on either side by a long row of flags that flaps noisily in the wind. Pongu has been terrified of the flags and the tomb's flame since he was a little bitty babydog (of course, he was terrified of absolutely
everything
then, and he sorta still is, but I digress).
For him to be able to hold a Stay here, and not only that but a Down-Stay in a group, is a Big Deal. Scaredy dog is making progress!, and can do things now that would have been unimaginable a few years back.
And of course Florence is doing pretty well herself. Posing like a pro, and she hasn't even been here one week. She is a very good little dog for sure.