Yesterday Little Fox got adopted by Shelley and Warren, a very nice couple out in Plymouth Meeting. Her new name is Simba. She'll be going on to the best possible home for this gentle little pup: a quiet, low-key place that is nevertheless social, with frequent visits from grandchildren.
Here she is in the puppy bucket on the way to the adoption event:
And here she is leaving with her new family: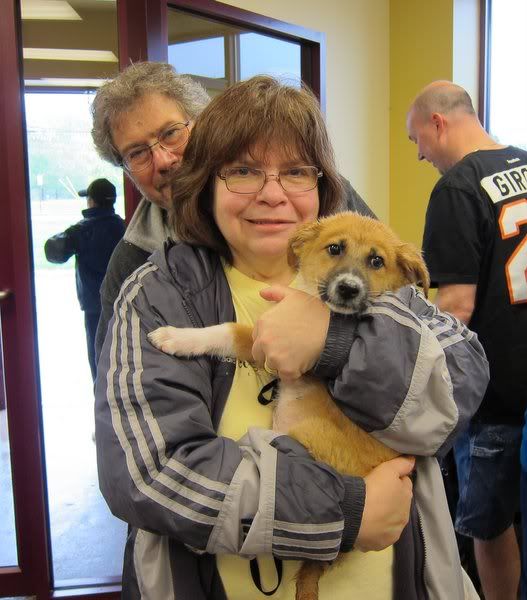 I think she'll do very well.
And now that she's moved on to the next chapter of her life, here's a retrospective of some of my favorite clips from her time here.
A visual demonstration of the Melon Collies' disparate personalities, courtesy of Flea:
Indy getting her head stuck in the morning's Puppy Distraction Box (a popcorn box filled with kibble wadded inside TP tubes and brown paper bags, which I throw into the puppy pen to buy myself a little more time to sleep in past 4 am every morning), while her sister looks on in woeful confusion:
The Melon Collies trying to play with a towel I'd hung up to dry on the deck, and Crookytail intervening to stop them because that is Not A Toy and playing with it is Against the Rules:
And, finally, Crookytail playing with the puppies on a balmy April evening, while Pongu ignores the lot of them because puppysitting isn't
his
job: