Well, we cut it awfully close, but Pongu earned his ARCH before his third birthday. Exactly one week before, in fact; he turns three next Saturday.
And he picked up his RL1X for good measure, so he'll be a triple champion when he is three. Symmetry!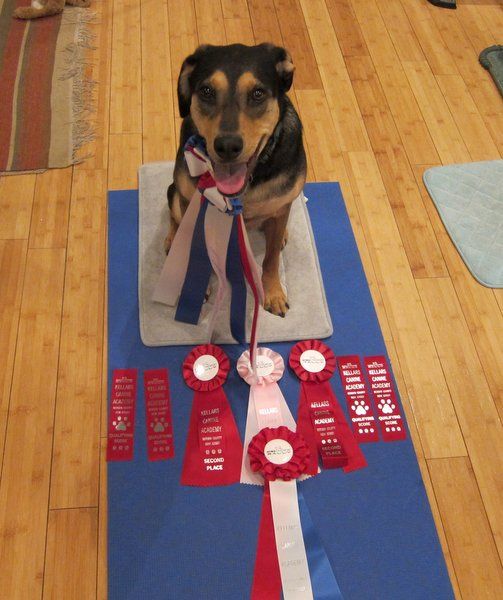 This weekend's trial was held at
Kellar's Canine Academy
, located in Saddle Brook, New Jersey, about 15-20 minutes outside of NYC. This might have been the first time they'd hosted a World Cynosport Rally trial, but you wouldn't have known it if the staff hadn't made a point of mentioning it. Everything ran super smoothly and efficiently; they finished two trials with five classes apiece (the standard Levels 1, 2, and 3, plus Puppy and Junior; there wasn't a Veteran class at this particular event) in just over six hours, which is absolutely lightning speed.
It was a
very
well-run trial, and I would recommend the hosting club to anyone who happens to be in the area. Plus, the ribbons were extra pretty, and for me at least, that's not a small consideration. It doesn't matter so much for the Q legs or even the individual level championships like the RL1X, but for the "big" titles -- ARCH, ARCHX, ARCHEX and ARCHMX -- I'm not above admitting that I try to earn that last set of Qs at a club that's got extra nice ribbons. Those four titles are big events in a dog's career, and I want to have ribbons gorgeous enough to commemorate them. Tied with the Dog Training Center of Chester County's, so far Kellar's ribbons are my favorites... and yeah, I'll make a two-hour drive to trial for those, at least if my dog's up for something big!
The entries ran the gamut from Level 1A newbies to one dog who was closing in on her ARCHMX (the highest title in APDT/World Cynosport Rally), and who very probably earned it that day. Pongu was completely exhausted by that point, so we had to leave and I missed seeing the dog's final run, but she was showing so beautifully that day that I'd be willing to make a pretty big bet she nailed the last Q too.
There was a beautiful deaf white border collie pup who, despite his handicap, was able to communicate clearly with his handler via sign language and whose joy at working was really inspiring to see. Deaf dogs don't always have their gifts appreciated, but it was obvious from watching them for even a minute that this dog was enthusiastic as hell and just thrilled to be in the ring with his person. I didn't get the best picture of them working together, but I wanted to try, since seeing that bond was so inspiring.
There was also a junior handler who I would guess was maybe around 10? (I'm not sure, I'm so bad at guessing kids' ages!) and who was running her mom's CDX Labrador Retriever in the ring. They made a very cute team, and I was particularly impressed by how smoothly her mom combined praise for the kid's efforts with gentle guidance so she could do even better in the future.
As for Pongu the Insane, he made me proud. It was a new venue, and the field of dogs was stellar, but he distinguished himself and placed in the ribbons three out of four times, missing only the run that was by far the most stressful. It was the last Q we needed and the last chance we had to get it before my arbitrary self-imposed deadline (which suddenly became a lot
less
arbitrary once I saw how nice those ARCH ribbons were...), and it was a Level 2 course riddled with landmines aimed directly at our weaknesses: Send Over Jump, Moving Down and Forward,
and
Moving Down Leave Dog. Oof.
Other people may dread the legendary Figure 8 around food bowls, but I'll take twenty food bowls any day over that cursed Moving Down Leave Dog bonus exercise. Moving Downs are our kryptonite... one of several varieties, anyhow.
Alas, the choice wasn't mine, so we struggled to get that final Q on the course we were given. And Pongu actually did a really good job, despite his person making bizarre crazy panic noises constantly and flailing around like an idiot. He balked on the jump, but (THANK GOD) did not pass the uprights, so we took the 3-point hit for a retry and got it the second time. He did fine on the first moving Down, but balked on the second, so that was another 3-point hit on repeated cues. A pop-up on a Sit-Stay (he didn't break the Stay, but did stand up as soon as I turned to look at him) cost us a final 3-point penalty, resulting in a total score of 201.
It was the lowest score he earned all day, but it was more than good enough to get our last QQ, and I am
so
not complaining. His performances are continuing to improve steadily, and I am thrilled with how he's coming along.
As an epilogue, we NQ'ed our first attempt at a Level 3 run on just the third sign. Sigh. It was a Recall Over Jump, and at that point in the afternoon Pongu was tired and stressy and not into it anymore, so we took the NQ and went home. He had been sick earlier this week with a stomach bug, and although our vet cleared him to attend the competition, I don't think he was feeling quite up to 100% after a day of hard work.
I didn't mind. We're not really ready for Level 3 yet anyhow (I mostly just signed up for the run to see how we'd do, and it confirmed that yep, we're definitely not ready yet!), and Pongu did great otherwise. We can always try again next time, or the one after.
Because he nailed his ARCH and his RL1X, and got not one but
two
huge gorgeous championship ribbons to hang on the trophy wall, and so for a little while I can afford to be patient again.