Last Sunday we drove up to northern New Jersey for a World Cynosport Rally trial at Kellars Canine Academy.
It went... okay. Not great, not terrible. Pongu was a little out of practice (we hadn't trialed in about a month and we have not been doing a ton of Rally practice at home lately) and seemed a little stressy, so it was not one of our more glorious showings.
I tried crating him inside the trial venue for much of the time, since it was a hot day (86 degrees!) and the parking lot had no shade. With the windows rolled down and a reflector shield in the rear window, the car was
tolerable,
but I thought Pongu would do better indoors.
That might have been a misjudgment, I don't know. It was hard to tell.
Our scores were pretty meh. 206/207/203, 210/206/193(!! our worst qualifying score in WCRL
ever!
yesssss). I had some handling errors on both of the Level 3 runs -- I really need to figure out a better way of getting Pongu back into Heel position after the send-over jumps -- but almost all of our deductions were on repeat cues, with a couple of stray 1-point hits for crooked Sits and lags in heeling. The courses had a bunch of moving Downs, and those continue to be a weak point for us when Pongu gets stressy.
He
also
broke a Stay during the Recall Over Jump by standing up on the last run of the day, which is a mistake we haven't had in a while, and which I view as an indicator that he'd had enough by that point.
So it kinda sucked. Pongu placed in every run except our first Level 1 (a 206 does not get you into the ribbons in Level 1!), but never higher than third. In fact, our average placement for the day was exactly #4, so that is the ribbon I kept (plus the white rosettes are the ones I like best anyhow).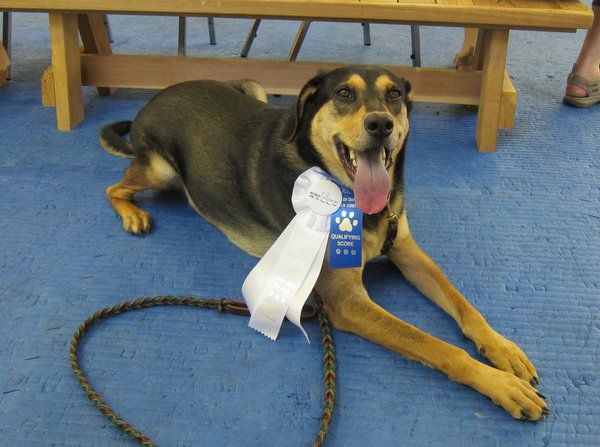 Good things:
-- I mostly got better Heeling off the start line than I have in the past. We had some stretches of quite nice Heeling, in fact. Never consistently for the entire run, or even half of a run, but good enough to make me feel optimistic that we're improving, particularly since Pongu was not on his A game during that trial.
-- it's kind of nice (I guess?) to be in a position where I can look at a 203 in Level 3 and go "JESUS CHRIST THAT IS TERRIBLE WHAT IS GOING ON HERE." This time last year, we were struggling mightily just to scrape together three Qs for our Level 3 title.
Bad things:
-- basically everything else
-- Pongu really, really sucks at working when he's hot.
Overall, not a super fantastic day for us, although it was nice to see friends and the KCA crew is always great. We'll try again next weekend, and then we have one more WCRL trial in June before Pongu goes on hiatus until August.